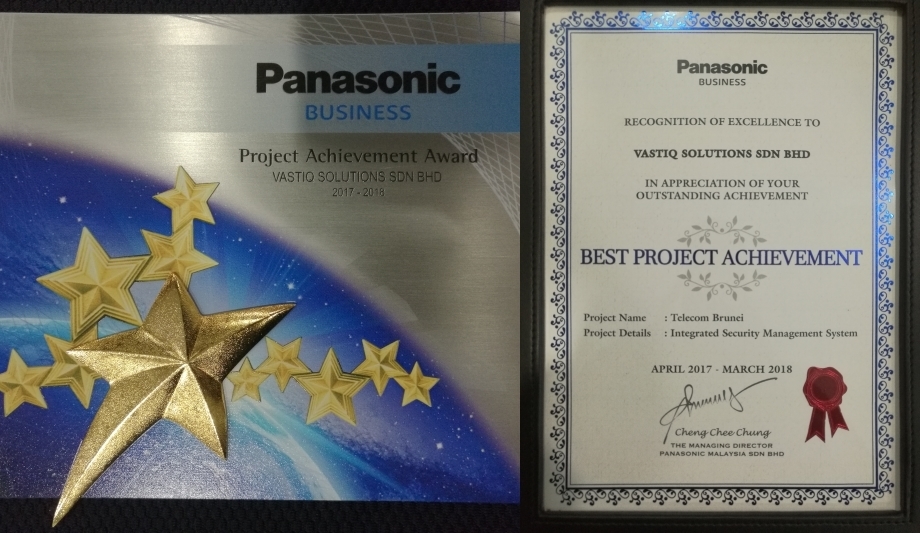 Panasonic Malaysia recognizes Vastiq Solution for Telecom Brunei Project
Integration Solution Provider Vastiq Solutions is proud to announce it has been recognized with a Best Project Achievement Award from Panasonic Malaysia, for its design work with security manufacturer TDSi on an integrated security project for Telekom Brunei's (TelBru) mobile network.
The project saw Panasonic's I-Pro Series CCTV IP cameras integrated with TDSi's access control systems, VUgarde video management software and Texecom intruder alarms. The project ensures the safety and security of TelBru's network of mobile telecoms masts and installations.
Jayendan Jothi Kandan,Director at Vastiq Solutions commented, "We are delighted to have been recognised by Panasonic Malaysia. Two phases have been completed for TelBru, which now protect 54 sites across the country."
"Using Panasonic's powerful cameras and TDSi's fully integrated systems, we have supplied a security solution that is robust and dependable, yet flexible and simple to evolve in the future."
Protecting commitments
Reflecting upon the award, Seelan Kandasamy, General Manager at Panasonic Malaysia Sdn. Bhd commented, "This was a complex project which features many remote, rural and potentially vulnerable locations for a vital telecoms network."
Seelan continued, "As our consulting partner, Vastiq Solutions worked closely with TDSi and ourselves to design an effective solution that encompasses Panasonic's cameras with these closely aligned integrated security systems. TelBru now has full peace of mind that its systems and customer service commitments are fully protected."
EXgarde security management software
IP CCTV cameras monitor each site and integrated access control ensures only authorized individuals or teams can enter. The security team monitors/controls everything via a secure online portal using TDSi's powerful EXgarde security management software.
This reduces the need for human security teams to continually visit each remote site, yet gives instant alerts of any suspicious activity, providing both live and historical data for compliance and security reviews.
John Davies, Managing Director of TDSi commented, "The TelBru project is the perfect example of how well-integrated security and surveillance systems can protect vital installations, whilst offering greater flexibility and support to human security teams. We are proud to have partnered with Vastiq Solutions and Panasonic Malaysia on this exciting project."
Read More - PDF